Windows 10 Adoption Opens New Avenues for Teaching
By now it's probably safe to say that Microsoft Windows 10 has had a successful release. Across the globe, it's running on more than 400 million devices, with adoption numbers continuing to rise. And, like any new operating system worth its salt, it's faster, more secure, and comes with loads of new features. So, what does Microsoft's ramped-up focus on education tools and applications mean for schools?
In the USA, Flagstaff Unified School District (FUSD) in Northern Arizona began its adoption of Windows 10 last year with the rollout of new devices for its teachers. "It was basically time for a refresh," says Technology Integration Coordinator Heather Breedlove, who was part of the team that oversaw the rollout.
Teachers could exchange their outdated devices for either a Dell laptop — running Windows 10 — or a MacBook Air computer. These would become integral tools for presenting lessons, grading assignments or using in conjunction with projectors or digital whiteboards. But with nearly 1,000 teachers on staff, the district decided to do a slow rollout, assigning devices to teachers a couple of schools at a time rather than all at once.
The upgrade to Windows 10
For Mac users, the operating system was largely the same, with only a few key differences. Dell users, on the other hand, faced a bigger hurdle. "They went from Windows 7 to Windows 10. That was a big shift," Breedlove explains. To help teachers get off to the right start, she offered voluntary, one-hour "Getting to Know Your Dell" training sessions.
During the sessions, she showed teachers how to navigate Windows 10, adjust their settings, manipulate the buttons on the trackpads and use other basic features of the operating system and laptop hardware. The district also curated resources to create a self-service website teachers could go to for information on Windows 10 in case they needed help with their laptops.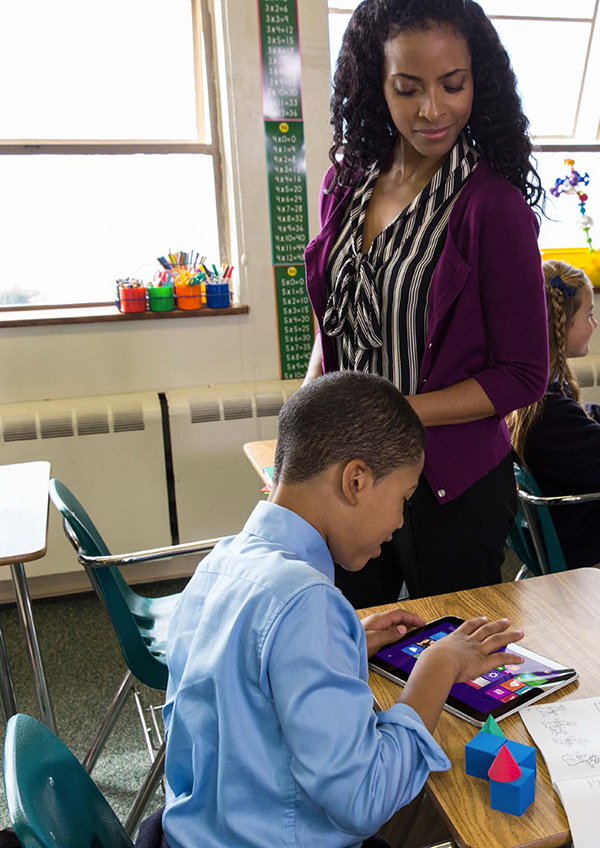 "The biggest challenge for teachers was, 'I don't know where my stuff is,'" Breedlove notes. Some teachers were confused by changes to the Start menu. For instance, All Programs is now labeled All Apps, and Documents, Pictures and Music folders are now accessed through the File Explorer menu option. Additionally, some teachers didn't realize they could customize their Start menu tiles, Taskbar options and Desktop shortcuts.
"The added piece for them between Windows 7 and Windows 10 was that Start menu, and a lot of them were like, 'I don't like it at all. It's got all this stuff on it.' And part of that — my training — was, 'Well, let's see if you do like it because we're actually going to customize it to what you need, what you want,'" says Breedlove. "A majority of them — once they went through a training with me — were like, 'Oh! OK, I can take off all the stuff that it comes with and make it my own. I kind of like that.'"
Keeping the familiar
One of the big difficulties in making Windows 10 teacher-friendly was in balancing innovation with familiarity. "[Microsoft] focused on including education as part of the system, so that meant including education apps … and making sure that people were really comfortable with Windows 10," says Tony Franklin, a partner sales executive at Microsoft.
It's no secret that Windows 8 ruffled some feathers after its release. Users either loved it or hated it, and many schools skipped its adoption altogether. So with Windows 10, Microsoft set out to create a computer operating system that would offer the best of both worlds. And as Franklin can attest, seeing is believing.
"Once teachers see Windows 10 in action, once they see things like Office 365 in action, the conversation is really easy because it's familiar to them. So that was one of the things [teachers] always wanted was a familiar OS. Windows 8 was a bit of a shock to them. So Windows 10 really addresses that very well," he says.
Insight US Education Account Executive Jennifer Bucich agrees. "Windows 8.1 wasn't the most user-friendly, and it can be tough to convince teachers that the district wants to make yet another OS migration. Educating teachers and staff on the benefits to Windows 10 and helping them to understand the familiarity they will feel when using Windows 10 is the first step," she says.
"Seeing and touching and feeling is always better than just talking about it for our teachers because once they do see that Windows 10 is actually designed for education and actually has a familiar feel to it, the barriers to using Windows 10 really go away," adds Franklin.
New apps, new possibilities
While Windows 10 adoption is steadily building momentum in schools, it offers such a diverse assortment of features that many educators just haven't had a chance to realize its full potential. "Inking is still gaining traction, so apps like Windows Ink and FluidMath often get overlooked. Collaboration Space, Skype in the Classroom and Minecraft Education Edition are also amazing tools that should be getting more focus as they really open the door to a more modern approach on the classroom environment, and students are probably already using this to some level at home," Bucich notes.
Another neat Easter egg, Windows Ink works with the Microsoft Edge browser. "Right in the browser, I click the button. I can then circle, I can highlight, I can annotate on the screen, and then I can share those annotations," Franklin explains. "There are some simple, kind of nice features that are overlooked that … provide a lot of value [and] save a lot of time," he adds.
One of those neglected, time-saving features is Cortana. "I can speak to the Windows 10 device and say something like, 'Hey Cortana, open up the math quiz component,' without ever touching a key," says Franklin. And that's not all. He also points out that from the other side of a classroom, teachers can ask Cortana to queue up a PowerPoint presentation or schedule a meeting without having to walk back to their desks.
Beyond the traditional classroom
For some teachers at FUSD, the district's Windows 10 adoption is an opportunity to implement new, more effective teaching strategies. "The people that came to my trainings aren't the power users. They're the ones that need that extra support. … Honestly, I think the people that just never even showed up to my training, those were the ones that were like, 'This is cool. I'm using all these little features,'" Breedlove says.
"I know some teachers are flipping their classrooms to provide instruction through video," she continues. In a flipped classroom model, students can watch lecture videos at home rather than sitting through a lecture at school, then come into class ready to practice, do projects or work in small groups. The main benefit is that the teacher is available to provide one-on-one instruction if students have questions or need help.
"Teachers record themselves writing down notes or talking through something or doing a math problem. Then they take that video off the document camera software and they just post it on their class website or on YouTube," Breedlove explains. "My own son is doing that with his math class, so that's kind of cool," she adds.
But it's more than cool. According to a study in the Journal of Family & Consumer Sciences, "The time gained by removing the lecture portion from class allows for more one-on-one personal engagement between the teacher and students."1 As the study explains, millennials — largely considered to be digital natives with short attention spans — have a difficult time engaging with lecture-style teaching. By looking at how active learning strategies, such as the flipped classroom, impacted student engagement, researchers concluded that with the right implementation, flipping the classroom could help millennial students develop higher-order thinking skills and creativity, and stay engaged.
Communication made easy
"Another big change for our teachers was Skype for Business," Breedlove says. Formerly known as Microsoft Office Communicator and Microsoft Lync, the instant messaging client is available with Microsoft Office 365. "That came with more features, so in my eyes, that's pretty awesome because now it's got a video component [and] a screen-share component." Breedlove is working to ensure teachers in her district are aware of the application's new name. "For teachers, I'm just trying to get them on it, but I hope in the future we can use more of those features."
She also plans to offer professional development sessions showing teachers how to use Skype to take students on virtual field trips. This seems to fit perfectly with how Microsoft has envisioned Windows 10 adoption might expand classroom boundaries. Tools like Skype in the Classroom give teachers access to live learning activities, virtual field trips, expert guest speakers and more.
"The goal of Microsoft and Windows 10 was to offer the best platform for teaching and learning," Bucich says. "They had a great understanding of the challenges that teachers face today so they built a platform that allows more access to inking tools, faster and easier setup for shared devices, as well as easier ability to collaborate and orchestrate tests."
---
1 Roehl, A., Reddy, S.L. & Shannon, G.J. (2013). The Flipped Classroom: An Opportunity to Engage Millennial Students Through Active Learning Strategies. Journal of Family & Consumer Sciences. 105 (2), pp. 44-49.
Support student success.
Insight and Microsoft will help you leverage modern technology in the classroom.