Tranformative communication and collaboration
Effective workplace communication begins and ends with your users. Microsoft's unified communication and collaboration solutions allow your workforce to effectively work from anywhere, on any device.
Co-authoring - OneDrive and Teams
Here's a question which pops up all the time: When should I use Teams and when should I use OneDrive?
Top Tips to combat Teams Fatigue
As we embrace the new ways of working we need to make sure we are reducing the impact of Team's fatigue on our staff.
The benefits of Teams Calling
See how you can leverage the Teams telephony features to deliver unified communication for your users.
Best practices for Teams Meetings and Video Conferencing
If you use Teams make sure you are getting the most out of this productivity tools and doing your best work.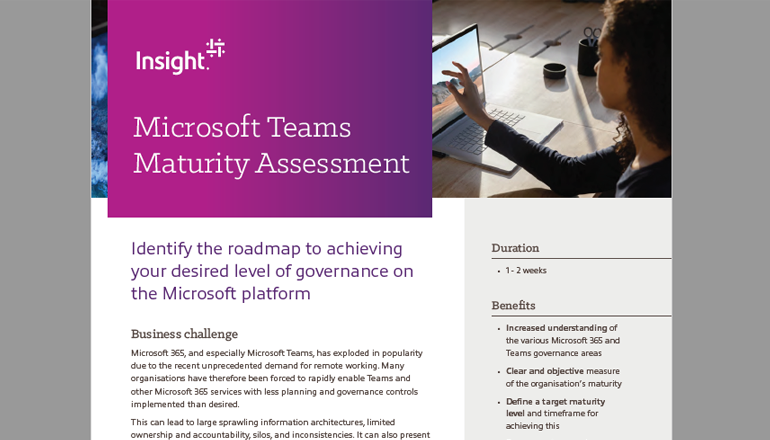 Microsoft Teams Maturity Assessment
The trend toward remote work accelerated faster than anyone could have predicted. Many organisations had to scramble to get on-site teams moved to remote work as quickly as possible. Identify the roadmap to achieving your desired level of governance on the Microsoft platform.
Learn more
Simplify your Security Complexity
The transition to remote work in 2020 left many organisation even more vulnerable to cyber-attacks. Attempting to shore up security, 78% of organisations use more than 50 security products1, which can actually have the opposite effect of introducing more vulnerabilities. Microsoft 365 E5 offers advanced Identity and Threat Protection and Information Protection and Compliance, to secure your organisation's IT estate.
What is the TCO of your Security Solution?
Consolidate security with Microsoft's cost-effective solutions, delivery unified end user experiences to reduce cyber-risk
What Does M365 E5 Get You?
See how you can leverage the Teams telephony features to deliver unified communication for your users.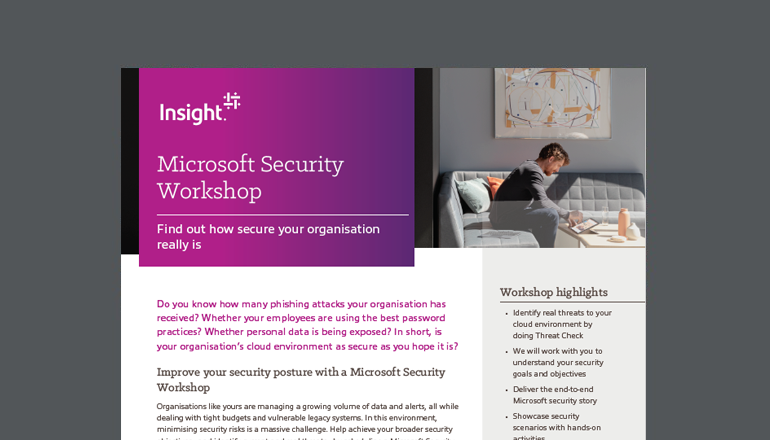 Get your Microsoft-funded Security Assessment
With employees working remotely in larger numbers than ever, a sharp focus on security is essential. Undertaking our assessment will make the risks and opportunities clear.

Microsoft 365 and Teams for Firstline workers
Firstline Workers form the backbone of many small and medium sized businesses. Ranging from Service workers to Task workers who are key to delivering products and running operations. Giving your Firstline Workers the right digital tools can help your business increase productivity, boost collaboration, streamline workflow, and protect data.
Keeping Frontline Workers informed get you?
See how Microsoft Teams helps you maintain multiple modalities of communication, so your team knows what lies ahead.
How to maintain wellness for your Frontline Workers?
Get top tips for using technology to keep people connected and promoting wellbeing within your workforce.
Featured articles, blogs and client stories for hybrid work
Key Solution Partner

Become an agile organisation.
We'll help you take your business to the next level with collaboration tools that transform your business into a next-generation workplace.