Preparing Your Business for the Future of Work
As we enter the hybrid era, make sure the tools and technologies you use are set up to support your employees – wherever they work.
Watch our expert-led webinars to gain new insights into shifting technology needs.
We help you navigate complex IT challenges.
Insight provides cutting-edge technology solutions to organisations of all sizes. With deep expertise and end-to-end capabilities, we'll help your business run smarter.
---
Never miss an issue.
Get a free subscription to our Tech Journal and receive each quarterly issue with bonus content inside.
Learn more in our client stories
---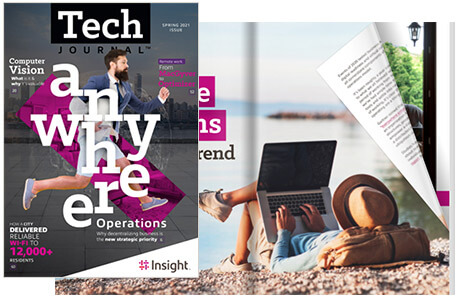 Tech Journal magazine
Why Anywhere Operations Is a Strategic Trend for 2021
This past year, business moved from the office to, well, everywhere — thanks to remote work. Now, many of us are wondering, "Where do we go from here?" Rather than focusing on a mass return-to-work plan, forward-thinking chief operating officers are working toward a sustainable "anywhere operations" model — and for good reason.
Our success starts with our culture.
Hunger
Status quo? Not at Insight. Our insatiable desire to create new opportunities for our clients and our business is apparent in everything we do.
Heart
We seek to have a positive impact in the lives of the people we serve by always putting our clients, partners and teammates first.
Harmony
We invite perspective, and we consistently celebrate each other's unique contributions as we work together to bring the best solutions to our clients.
Local presence, global reach, since 1988

11,000

+

teammates worldwide

19
countries with Insight operations

4,500

+

Technical
resources
---
---
Partners, tools and products to help your business run smarter
---
Gain expert insight from the leaders in IT and market research.